The Do It 4 Youth challenge is now closed.
It's been incredible to see over 7,000 challengers come together. They've run, climbed, baked, swam, given up chocolate, litter picked, learnt languages and even knitted jumpers!
You name it, our incredible Do It 4 Youth challengers have done it and we're truly grateful.
Do It 4 Youth has raised over £150,000 which will help to support young people from the toughest backgrounds across the UK to build life-long belief in themselves through the DofE, like Tom.

"I have Down's Syndrome so I am very pleased I was able to participate and succeed with my DofE alongside my 'mainstream' friends. The team recognised my abilities and treated me with respect and working with the other cadets to achieve my goals was inspiring", says Tom.

Whilst Do It 4 Youth has come to an end, there are still lots of ways you can help us to support even more young people.
Together we can help any young person be ready for anything.
Thank you so much for taking part.
Some of our incredible challengers:
Diva Kothari
Get Up challenge: Cycling
Skill Up challenge: Discovering the art of mandala
Free Up challenge: Giving up chocolate and junk food
Hand Up challenge: Cooking meals for the community
Michelle Wood
Get Up challenge: Walking and cycling
Skill Up challenge: Knitting and sugarcraft
Free Up challenge: Giving up chocolate and cake
Hand Up challenge: Giving out smile bags in the community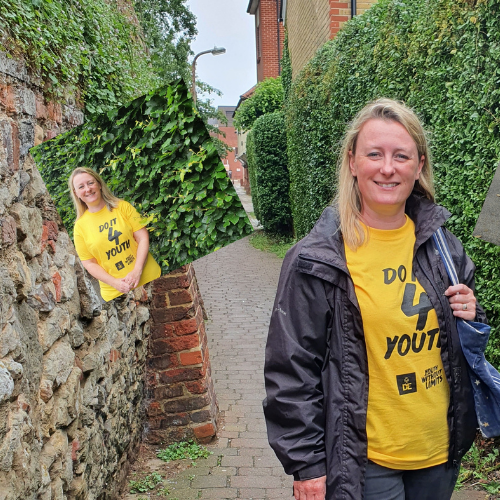 Vir Walia
Get Up challenge: Swimming and running
Skill Up challenge: Cooking
Free Up challenge: Give up unhealthy foods
Hand Up challenge: Washing cars and gardening
Sue Clegg
Get Up challenge: 100 mile walk
Skill Up challenge: Scanning, labelling, organising and digitising photo
Free Up challenge: Getting up and going to bed earlier
Hand Up challenge: Offering words of encouragement to others
"Just like a butterfly emerges from a caterpillar, we must break free from the chains that hold us back and ride with positivity. Along the way taking out a little time to donate so that the youth can get the opportunity to soar as well. This experience has also helped me break through my inhibitions and beliefs about a lot of things that I initially thought I couldn't do that were limiting my growth."

Diva Kothari
"Do It 4 Youth has been very inspirational to me and my children. This is a fantastic opportunity so other young people get to experience the DofE. My children have gained confidence and life skills through the DofE. I wanted to give something back for the hard work they have put in. Regardles of age or fitness, anyone can have a go and have fun along the way."

Michelle Wood
"Having treasured my own long involvement with the DofE scheme, it was great to be involved with Do It 4 Youth by taking on 4 different challenges like my original DofE. All completely different that stretch physically and mentally to be both practical, rewarding, and involving others. Learning new things, and consolidating forgotten truths, it once again has been a rewarding experience."

Sue Clegg
"Do It 4 Youth has been a great opportunity for me to rediscover what it is like to complete the DofE. By having a focus, and most importantly having fun, it is amazing to think of what you can achieve. For my Get Up challenge, I never thought I could cycle 650 miles in 5 days, but with a positive attitude, the right motivation and support from friends and family, you really can achieve great things. Knowing every penny raised will go towards supporting even more young people to start their DofE journey is truly incredible and having this chance to be able to give something back was something I could not turn down."

Ben Cheveralls